The best and easiest software in the world

Kelly, USA
Find your lost passwords.
100% guaranteed fast result.
Works on multiple accounts.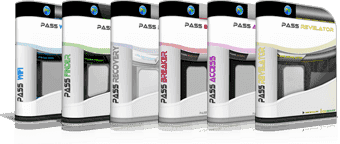 Recover easily your lost connection keys
Pass Revelator is the only website in the computer world to offer the best solutions to recover a Facebook password, to find a Twitter password, for Gmail, Yahoo ! or MSN if you lost it or forgotten. And of course it helps you to get back Wi-Fi combination from the network. Through this website, you will find your IDs in minutes.
Working with the major players and publishers of the computer market, Pass Revelator's softwares are synonymous of security and education. Over the years, our unique solutions have built a solid reputation from their users thus demonstrating the international skills of it.
Access every account password with this software
You can get a profile experience and totally FREE to download. Learn how to break into your Facebook for free of charge. You can get someone's Gmail IDs by using our security fail system. You just need to provide the email address connect to the Twitter messenger you want to enter, and after a few clicks, our system will automatically display the hidden key for you right on your screen. Enter into a MSN, Hotmail, Outlook or Live account with our service has never been easier. Watch someone's Facebook private life for you within minutes is now available with the Internet. Person will not realize that his Gmail account has been unlocked.
Why hackers want your password?
You need to download any of our decryptor software to secure back your Twitter account. Just enter the email address you want to view and you can get someone's data. You do not need to complete any survey to have access or to pay. No, it's totally free to have. You may wonder why we need to unsecure FB profile? There are several reasons for a person to do this action. In order to keep an eye on their children, the parents may want to know what they are doing on the Internet. A boyfriend or girlfriend desires to know what their love is doing behind their back. A husband may want to know whether his wife is loyal or not. Thinking of using a FB account? No issues, there are not number of ways you can use to do this. Here is the free Facebook discover available on the website.
How to find complex combinations?
It's not depending on how complex and long their key is. Our exploit uses an algorithm method to bypass the security of the database, which means we can success to log in email address. When successful, you will be notified by a text showed on the screen. Copy and paste this into the website along with their username or email address to enter in. You will then be able to connect to the Twitter profile.
It is a good security practice to use a complex password for MSN, Live, Outlook or Hotmail account that you create. However, you are lost if you have not used in a while. If you have returned to your online messenger, you find that you can't access to your webmail. Fortunately, there is one solution to use, Password Revelator. Just use the tool and let our automated system unsafe the security of the online messenger for you, it's as easy as that! We use various powerful algorithms in the application which enables it to get access to any account.
Hack your account to check your security!
This is the answer of the previous question. Is any of it really possible? Yes it is, who knows that your account is maybe under control by a hacker? Thanks to Gmail Password Breaker, you have probably heard rumors of how unsafe Google service is with a few celebrities having had their accounts revealed. You may also have seen it allows you to synchronize status updates so whatever appears as a status update. Which method use you might ask. It's more than simple. You simply enter the email of the profile you want to enter in our software, and all the questions you might have are solved right away, since you gain access to the other person's life, and be able to see what they think of you.
There is probably no Yahoo or Twitter user who has asked himself at least once this question: How can my account be hacked? There are many ways, and we will deal with them further. Indeed, with the increase in popularity of socials networks, there is also an increased interest in hacking personal accounts. In general, people want to get in account in getting certain business benefits. The question "How to hack Facebook account" was more important than "How to make money off FB". The reason is very simple: Facebook is the world's largest online social network. Its core essence is human contact, relationships and sharing. People are interested in spies culminating accounts of other people for various reasons, but most often it is mere curiosity. Of course, simple curiosity is not enough since Facebook has one of the best security systems available on the net and is constantly working to improve it. But it is not enough! The proof is that our system bypass the security to recover your lost password!
Unless you are a genius or a cryptographer, it is almost impossible recover a password without our help. Our software was made many years ago and we are still working on it to make it stable even if Facebook is making update. The algorithm used is too complex and too long to be implemented in a simple application. But thanks to our Facebook recovery panel you will be able to get the password of any account in a free and very efficient way. We have created this site for users who need help and it is still very powerful. The hacking of a Facebook account of a person may seem complicated but we have the duty to explain you how hackers make this job to protect you. We have for you the ultimate method that will allow you to decipher your account safely and for free. Our algorithms recover for you the password Facebook provided no matter if it is less than 20 characters all this is done in just a few minutes. We will use a method that allows to pass the secret question by injecting one of our scripts which works with hash MD5. Our system consists of several aspects that we will see below without going into details for security reasons. We really care about your security and your anonymity, which is why it is done on several VPN servers based in several countries, which will guarantee you the best security, total anonymity and quality service. As we say: wherever gold and wealth are, there are often also pirates. This ancient quotation is still valid. GMail became the arena and target of all hackers and cheaters.
Also, you may be interested to hack a Wifi password security key WEP/WPA2 in order to test your security network. We provide you with our wireless hacker detector for free. Our software, allows you to use all the wifi hotspots you want to in just a few minutes and all for free. So, you gain in two ways. First, the software is free and secondly, you will stay online without paying anything. Our WLAN Hacker promises and guarantees the resolving of any wireless technology network without even the least of problems, it makes the whole process enjoyable and fun. The number of Wifi hack you can hit with it is amazing. For more info on the security concern when using our online access point, please read the paragraph that follows.
You don't need to hire a professional and you don't need any obscure computer knowledge at all. Our application works also on phone or tablet working with Android. You are so lucky you got here early that you don't even need to buy this program, because for a limited time we're giving it for free! You want to check and to understand why hack Yahoo! account, we will bring an answer for you! If you want to learn how to log in Yahoo messenger or crack your webmail fast and effective, just follow strictly the directions. Once you typed the email, then you have succeeded about 90% of your work to enter into Yahoo account for real.