How do hackers hack an OUTLOOK account?
PASS REVELATOR is the best legit and genuine software allowing users to find all passwords of MSN, Hotmail or Outlook (also all Office 365, live.com...) by simply breaking and decrypting the passwords account. Imagine that any time and without limits, our tool will recover any password worldwide.
PASS REVELATOR delivers the previous and current MSN, Hotmail and Outlook passwords that are associated with that account. You can decode your own password that you forgot but also the passwords of your friends!
No sure about something? A question? Don't hesitate to contact us or let's have a FREE try now with a 30-day money back guarantee! One time fee, there is no subscription or automatic renewal. It works on smartphones, tablets and computers. Subsequently, you will be able to connect to all MSN, Hotmail and Outlook (also all Office 365, live) accounts and passwords. Otherwise, you have 30 days to get your money back.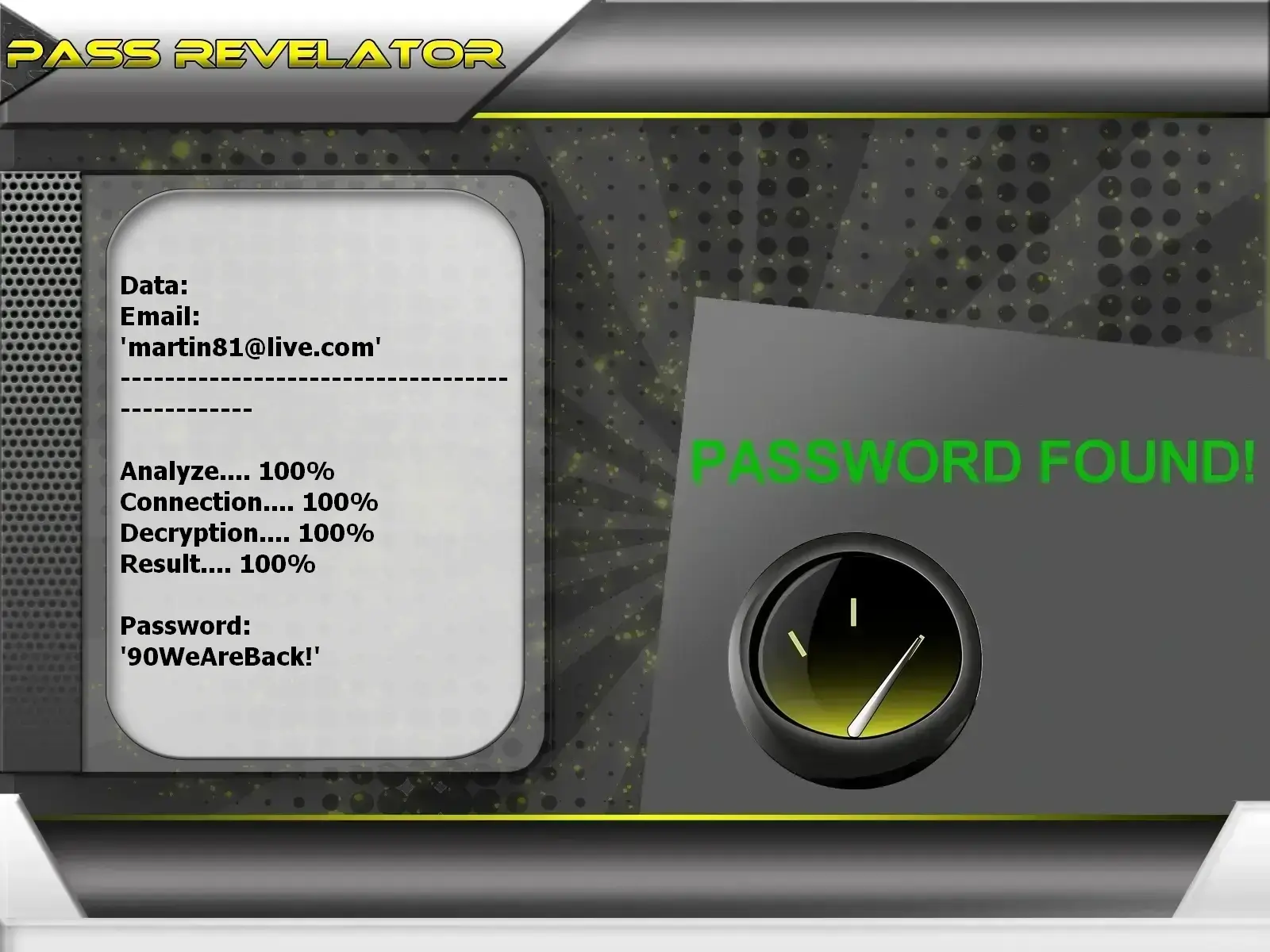 The powerful programming algorithm of PASS REVELATOR uses a script based on an optimized complex asymmetric cryptographic decoding exploiting the vulnerabilities of the databases which gives it the capacity to bypass the protections of double authentication (2FA).
Don't waste one more second, click on the INSTALL button, you will easily and quickly find passwords from all accounts to log in without limits! If not we refund.
How does the MSN, HOTMAIL and OUTLOOK password extractor work?
To hack a MSN, Outlook (also all Office 365, live.com) and Hotmail password is possible and our tool will let you get the password in 3 steps:
Download the software by clicking on 'INSTALL'.
Run the program and allow it to begin operating.
Simply type the email of the account to recover and you are done.
PASS REVELATOR will then begin to work with the main information provided by exploiting databases vulnerabilities and proceed to retrieve the password (this operation may take several minutes). Then, you will have the possibility to save the password in a file on your device. Read the rules, be aware.
Don't waste more time. Get access to passwords NOW!
Please click on the button below.