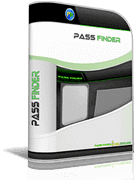 FAQ
Minimum System Requirements:
Windows 10; 8; 7; Vista; XP; 2000
1Ghz, 256Mb RAM, 5Mb free
Compatible 32 Bits / 64 Bits

Free update

Last update on 08.01.2016

Compatible with multiple accounts

In English
What is Password Finder?
PASSWORD FINDER is the most effective password recovery software available. It helps users acquire FACEBOOK passwords no matter how complex or how simple the password is. You simply start the software and follow the instructions and VOILA!
It delivers the past and current FACEBOOK passwords that are associated with that account. Need to access a FACEBOOK account right now? Download PASSWORD FINDER and have your password in minutes.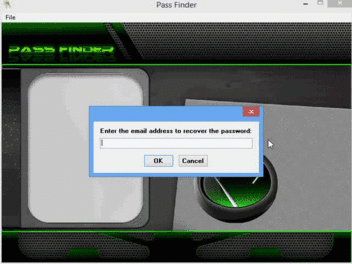 How does it work?
It is as simple as 1, 2, 3!
You load the software on the device you use to access to the FACEBOOK account.
Next you start the PASSWORD FINDER software.
After that, you simply follow the instructions on the screen.
Once you have entered a valid FACEBOOK account email address, the PASSWORD FINDER will automatically decode your password. Once the password have been secured, you can save them into a text file. You can run PASSWORD FINDER and find other passwords without limits!
PASSWORD FINDER's powerful programming algorithm has the ability to decrypt passwords encrypted with AES in CBC mode, PBKDF2, MD5 or SHA.
PASSWORD FINDER setup file is totally FREE.
Please click on the "Download" button.
1. I use PASS FINDER software as a 2016 Facebook password hacker tool.
2. PASS FINDER is a software to hack a Facebook account online but it is not to spy my competitors, family, friends...
3. PASS FINDER is the software to hack Facebook password account.
4. Thanks to PASS FINDER, I can hack password Facebook. Your software help me to hack my password FB.
5. PASS FINDER the ultimate password cracker that no body can stop.
6. PASS FINDER only recovers the saved passwords of Internet Explorer, Mozilla Firefox, Google Chrome, Opera and Safari browsers.
PASS FINDER is the software that allows users who have lost their FACEBOOK password to retrieve it.
Without a valid password, you cannot exchange messages with your old and new friends, find out what's new in their life or tell them something important. You also cannot participate in your favorite common interest groups and do other interesting things over FACEBOOK. How can you recover your FACEBOOK password if you have forgotten it and are unable to reset it for one or the other reason? PASS FINDER unlocks and decrypts the passwords. Take advantage of this simple fix! With PASS FINDER, you can find your password very simply for every account!
PASS FINDER, finally a solution that lets you easily hack a Facebook account without being an expert.
Facebook Password - Decrypt, crack, hack or steal Facebook passwords with the software PASS FINDER to spy on your friends, your children, your parents or your competitors is now 100% possible and achievable in just a few minutes after installed on the computer but totally illegal and liable to criminal prosecution in many countries.
Enter in a new Facebook dimension
Have you ever wondered how to access to the best social network in the world? Do you have an old FB profile? But you forgot the key? Or maybe you just made an account but completely forgot what you entered in. It happens to the best of us especially when you have signed up for many things on the Internet. Or maybe you want to see what someone has been privately posting. But first you need access to their private life. There can be several reasons why you will want to obtain someone's privacy and login thief makes it possible to do so. The way our software works is very simple. Thanks to our Facebook Password Hacker, every database access will be open ! All you have to do in order to also become a professional, able to go into any user information's of your choice is to obtain our advanced software, Facebook Password Hack Tool (Anonymous Software) which will enable you to get IDs at will!
Own this way to go on all Facebook profiles for free
You are still not fully convinced ? For a few days only you can download our application, the Facebook decrypting software downloading, completely FREE of charge, yes that's right, you can become a professional for free! Grab a copy of the tool while you still can and enter in your friends' information today and very easy! It opens new possibilities to you. Some time ago do this on facebook.com was a difficult operation but our service requires constant support and development due to detected vulnerabilities of website facebook.com and we fix them regularly. We all make use of social network to chat with friends, video calls and other, but is it 100% secure? Can be your FB account be hacked? Can someone pinch webcam while you talk? YES! Facebook is not 100% secure! Our new target was it and now we make it to success without survey.
Why choosing this specific software?
The program name is Facebook Password Hacker and is a manufacture made by professionals. This software assist you if your account was hijacked or you forgot your password and hidden questions, assist you to get webcam without consent, show the email, secure your account against hackers! Every day, a lot of people ask themself about suspecting their boyfriend or girlfriend of cheating and ask me how to show the hidden part of FB so that, they can investigate the truth about their partners. If you are in a similar situation or just wondering to know how to connect to a Facebook password, then this post can surely help you out. Get now a free copy of it while you still can and scan everything today! Anytime your work is successful, the user's login password and info will be made available for you to access from your computer. Our application works also on Android phones or tablets.