Google focuses on trade protection on its messaging app
The Mountain View company recently announced in an official announcement on November 19 that Google Messages would soon adopt end-to-end encryption.
Good news for app users in that this security mode has become literally standard in the areas of messaging applications. The American giant promises a gradual shift towards this encryption which will take the form of an additional layer of protection. The goal of course and to provide users with a higher degree of privacy in their exchanges. Conversations will now be inaccessible to anyone outside the exchanges.
This article will also interest you: Alert! A new virus pretends to be popular Android messaging
End-to-end encryption has been a huge success since whistleblower Edward Snowden's revelations in 2013. Faced with the manoeuvring of state agencies, act particularly by collecting information from different users of digital services, to better spy on them, the issue of privacy has become something imperative. Encrypting user conversation has become a standard for instant messaging publishers, even becoming a business argument.
The alignment of Google in this dynamic for its messaging application and a good thing for those millions of users who are often forced to use it as a preinstalled application in the smartphone running Android. In this way Google Messages fit in line with these famous messaging software already in the bath, including WhatsApp, Signal, iMessage, Viber, Wire. Not to mention those that offer it as an alternative i.e. Skype, Messenger or Telegram.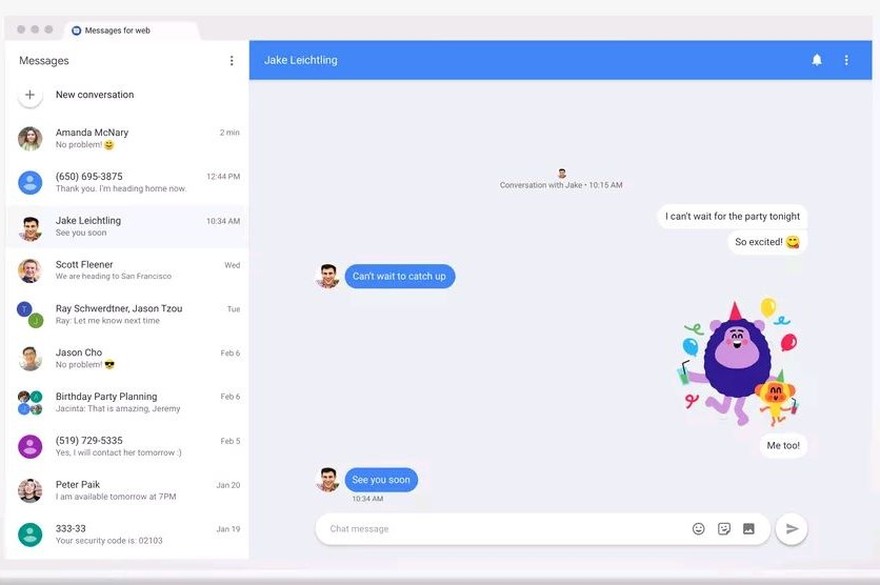 "End-to-end encryption ensures that no one, including Google and third parties, can read the content of your messages when they move between your phone and your correspondent's," the Mountain View giant wrote.
However, you will have to be patient because, this switching will not be done in two steps three movements. Because Google estimates that end-to-end encryption to be inserted into its messaging app by 2021. And according to a well-defined pattern. Indeed there will first be the application on beta software. Then, once deployed on the application in general, encryption can only apply to 2-page conversations for a period of time. And around November 2021, it will be possible to consider group exchanges.
"Your eligible conversations will be automatically upgraded to be encrypted end-to-end. End-to-end encryption is only available when you and your caller have installed Messages and enabled chat functions," the US giant said. The idea is whether users will finally be able to see Google messages as a classic exchange application like any other. Because in fact, the company with 4 colors comes a little behind on this field.
Also it is important to emphasize is important. Google decides to opt for the Signal protocol. A protocol already used on several famous applications such as WhatsApp, Skype, Facebook Messenger, or Signal. In the various documents provided by the Mountain View giant on its orientation for its encryption protocol, it is clear that this choice was motivated by the good reputation around this protocol not to mention that it is already used by several others. A story of being able to easily meet the needs of the moment and the trend. Moreover, it will not be denied that this encryption protocol has a very good reputation because of the praise that Edward Snowden and several rights and freedoms organizations have made with regard to the mother application. Some computer security experts Christopher Soghoian, the first leader of the famous project "freedom of expression, privacy and technology" initiated by the American Union for Civil Liberties also praised this encryption protocol.
With this announcement, Google tries to reassure users and further confirms its desire to always a real for their security. The adoption of end-to-end encryption in its messaging app and an important point in its policy. We will have to wait until 2021 to take advantage of this new feature that perhaps promises to give a boost to Google messaging messages.
Now access an unlimited number of passwords: