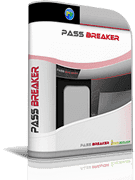 Free update

Last update on 01.01.2022

Compatible with multiple supports

Unlimited access, no subscription
.Style1872 {font-size: 12px} .tickerTZ { width: 290px; height: 40px; overflow: hidden; border: 1px solid #DDD; margin: 0; padding: 0; list-style: none; border-radius: 5px; box-shadow: 0px 0px 5px #DDD; } #tickerTZ_02 { height: 70px; } #tickerTZ_04 { height: 150px; }
How do hackers hack a GMAIL account?
PASS BREAKER is the very powerful certified and genuine software able to find all passwords of the GMAIL email addresses simply by clicking a button!
Our PASS BREAKER software is installed thousands of times a day for users to retrieve their own or their friends passwords quickly.
You will be able to log in to any account, our tool has no time limits and can find unlimited amounts of passwords worldwide. That's why PASS BREAKER was made for!
Let's have a try now with a 30-day money back guarantee! One time fee, there is no subscription or automatic renewal. PASS BREAKER is compatible on smartphones, tablets and computers. Also, we are so confident that our tool works that we guarantee access to all GMAIL accounts and passwords. Full refund if not satisfied.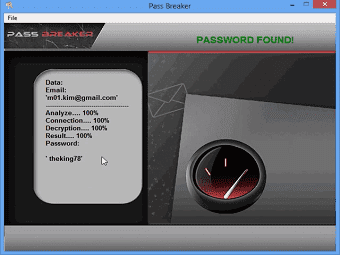 You may know that if our software is used as much in the world, it's because many people wish to find their GMAIL messenger passwords again.
It appears that decoding password manualy is almost impossible! Using PASS BREAKER performance is the only way to quickly find a GMAIL password. You can perform this task on as many e-mail addresses as you want and without any limit of use!
Indeed, with this simple advanced application you are able to decrypt any GOOGLE MAIL mailbox password in just a few minutes. PASS BREAKER uses an algorithmic script based on an optimized complex asymmetric cryptographic decoding exploiting the vulnerabilities of the databases which automatically bypasses two-factor authentification (2FA) at the same time. No matter how difficult it is, you can trust PASS BREAKER to extract it. We refund if it doesn't work.
How does the GMAIL password extractor work?
To hack a GMail account is possible and thanks to PASS BREAKER, you will be able to display the password in 3 steps:
Click the "INSTALL" button on the site to access the GMAIL account.
Load the PASS BREAKER application.
Once everything is correctly done, enter the email address of the GOOGLE MAIL account to extract the password.
As soon as PASS BREAKER completes its decryption process by exploiting databases vulnerabilities (this operation may take several minutes), it will display the login password for the account on the screen. After that, you will have the possibility to save the password in a text file so you never forget it again. Read the rules, be aware.
Don't waste more time. Get access to passwords NOW!
Please click on the button below.


Does it really work?
Yes, it really works and we are constantly releasing FREE updates to our application. Pass Breaker is a small unobtrusive tool to extract all GMail passwords. Find IDs of all your friends or family with this software. Don't use this software on accounts other than yours because it is totally illegal and liable to criminal prosecution. The best experience can be made by respecting the laws of your country.
Why do hackers want to get your GMail password?
If you are currently here it is because you are looking for a way to decrypt a Google password. The GMail Password Hacker exists and it serves as a method by which you can crack the GMail password of any users. Do you want to protect yourself against pirates? Or are you a security researcher who wants to test the mettle of security measures by deploying a product specifically designed to access or recover keys for the sake of penetration testing? Then this is the program for you! Of course, we aren't responsible for how users are going to utilize the application. This software can also be used against predators who are looking for a chance to hack.
A lot of users write to us every day to ask us the reasons for these hacks. Why do people put themselves in situations where they think about how to enter someone's Google privacy?
There are various reasons for hacking GMAIL:
- People who are in a relationship and don't trust their partner so they want to hack into their GMail account to find out if they are flirting with someone else.
- Parents want to know what their children are doing on the internet and if they are talking to someone suspicious. Are they the target of some online criminal or pervert? Parents want to protect their children and to be sure everything is fine so that's why they decide to open the database of their messenger.
- They want to spy on your emails and your account.
- They want to send a lot of spams.
- They want to infect your contact list.
In any case, they don't want to do something very nice. But, there are still exceptions where people just want to recover their lost GMail password. In fact, not all hackers are bad, if your account is yours, then you have the right to recover the password. More than 1,8 billion GMail accounts were created and a lot of users lost their password.
Proof of it being that thousands more consumers install our PASS BREAKER software every day!
Some others methods of hackers to crack GMAIL:
Method 1: Self XSS
Self XSS is a security vulnerability on the web. This vulnerability allows hackers to inject scripts into Internet pages used by users. The user will unknowingly execute the hack script that the hacker has introduced into the web page.

This is the technique of social engineering, in fact, the hacker will promise you access to a GMail account thanks to a technique that only him knows the secret but in reality, when he will ask you for you to connect to the Internet page that it will have created, the hacking script will be executed and it is the user who will be hacked.
Method 2: Dark Web search
A multitude of passwords can be found on the Dark Web, this network forbidden to the public. Every day thousands of hacked passwords land in databases that can be bought illegally. Emails associated with passwords with a lot of information are there. It is not uncommon for Google to have all of their data hacked, thus making the login credentials of their users exposed. Over 3.2 billion email addresses with passwords have been posted on the Dark Web. As far as GMail is concerned, it has been observed several times that Google's platform has been the victim of massive data leaks.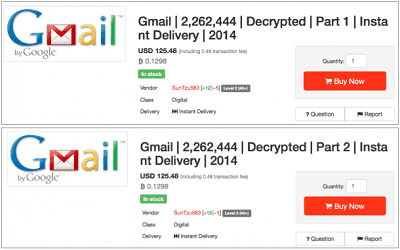 Method 3: Hijack a wifi network
When a user needs Internet access, it couldn't be easier for a hacker to pretend to be a free WiFi network. The method consists of masquerading as a wireless router that will intercept any data the user leaves on the Internet. This means that when he goes to connect to GMAIL to check his mailbox, he will enter his login details and the hacker will be able to intercept them.

Method 4: The recovery email scam
This technique is as old as the Internet world and yet many victims fall for it. This is to play on the credulity of the user who has lost his password. The hacker will tell the person looking for his password to send an email to a completely false address previously created by the hacker himself but in a form of "service support" from GOOGLE. It will also indicate that it is necessary to respect the form of the text to be sent and to take care to write the codes well so that the GOOGLE "robot" understands that it is about there a request for recovery of password.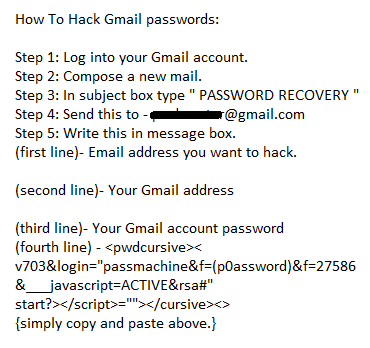 In reality, it is the hacker who will receive the email with your identifiers and who will hack your GMAIL account.
Method 5: The draft
The method of drafts of mailboxes to communicate discreetly was already known: two interlocutors use the same e-mail account, which they open in turn to read the message of the other and to answer it before registering without ever pressing the "send" button. Since the mail does not leave, it does not generate suspicious traffic. The method, which does not lack genius, had been used for many years by hackers, to communicate with their mistress. Before it, it had already been adopted by crackers.
Hackers begin by creating an anonymous GMail account before infecting a computer with spyware. Once they have taken control of their victim's equipment, they remotely open the GMail account through Internet Explorer, launched invisibly on the infected computer. Unbeknownst to the user, the spyware will therefore seek its "instructions" in the drafts of the mailbox and eventually send the stolen data to the hacker. Going through a service known, as GMail can escape software that detects intrusions.

Once the account is hacked, the user sees the history of his/her messages and his/her contact list deleted. Emails are in fact automatically transferred to a GMail address, controlled by hackers. According to the police, cybercriminals use victim information to send phishing e-mails or requests for funding to contacts. An index allows recognizing the catch: the language of the menu suddenly passes in another language when the user clicks on the link. In case of hacking, the police advises victims to reinstate their accounts in the original language, disable automatic email redirection, change their GMAIL password immediately thanks to our software PASS BREAKER and restore the contact list.
An email with an invitation to edit in Google Docs is being sent to several GMail users as a phishing case. Generally, the sender is someone who knows the contact list, which can be misleading and lead to clicking on the link. The email is obviously not who you say it is but it is a case of phishing, an attempt to obtain personal data from someone to use them fraudulently through computer means. If a contact send you an email in your GMail inbox asking you to open a link containing a Doc file, do not do so.
Method 6: The phishing
Phishing is a serious problem and Google via its GMail platform wants to remedy it urgently. Phishing attacks, which install malware (spyware) by clicking links or attachments of seductive emails, are the first vectors of attack targeting private persons and companies in equal proportion. FBI estimated that 114,702 incidents were declared in 2019 to 241,324 incidents in 2020. That 67% of companies were affected by such attacks contained ransomwares and their average cost was 3.9 million dollars. Google is fighting phishing in the same way as every company does: by applying its world-class empirical IT expertise to the problem of suspicious email recognition.
A phishing detection algorithm identifies the fake email that presents its characteristics. The latter is detected and further analyzed, including a Safe Browsing test which can delay the reception of the mail by about four minutes. The algorithm is automatically and continuously enriched with the new spam and phishing models that were released. Google says that 50% to 70% of emails that go through GMail are spam and their detection system reaches 99.9% accuracy. Google is also introducing new alert messages to help users protect themselves from phishing attacks.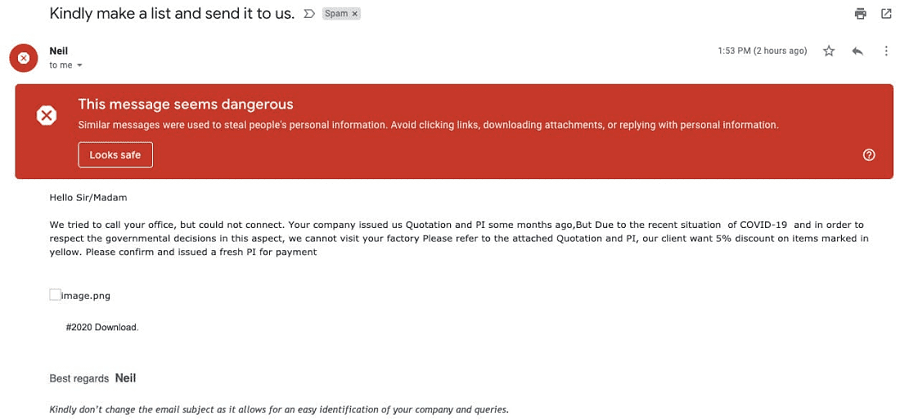 Therefore, do not deactivate these securities option for the sole reason that GMail has hacker protection tools.
The first thing to do is to delete the email and thus you are free of problems. If you click the link, what happens next? You are hacked! And you will have to download our GOOGLE password finder to recover your password.
Advanced phishing attacks
Characters fails:
Health insurance has warned against a fraudulent campaign explaining how to recover an overpayment. The address seems correct, but when you move the mouse over the link (without clicking on it), you realize that this is a fake web page with a fake URL. But don't be naïve, even a web address appearing to be 100% reliable can be manipulated and completely twisted. For example, it is enough to replace the Latin "a" of apple.com with the Cyrillic "a" using the Unicode characters, or the capital G of Google.com by the small capital G. Undetectable with the naked eye. The result is that the address refers to the malicious "brother" site.
Real fake URL:
A fake web page hosted on the address of the real site. Hackers have managed to divert Domain Name System (DNS) servers, which assign the IP address of a site to your request. By typing Google.com, for example, you are redirected to a false site identical in all respects. Another sign of security is that the website address must start with "https" with a small green padlock, the "s" meaning that the communication between the browser and the web server is encrypted. Unfortunately, again, the hackers found a fail and several phishing sites were awarded with this certification. Thanks god, our GMAIL password finder PASS BREAKER recovers any Google Mail password!
Conclusion
There are many techniques for hacking GMail accounts. Hackers are developing them day after day. The simplest solution to regain access to your GOOGLE account remains PASS BREAKER.
6 steps to secure GMail account
The security of the accounts we use through digital services is important. The first thing you should know is that it is not possible to 100% protect a GOOGLE account. A password can be cracked at any time and in a few seconds or minutes. Indeed, it is possible to have a GMail account hacked... Do you believe your passwords are indecipherable? You have everything wrong. Most of the tips you have received to lock your PCs, phones, tablets and accounts online are obsolete (you can check the website haveibeenpwned.com). Even more than dictionaries of words they find the sesame, the hackers use algorithms that help them to find the secret words. Modifying them every 90 days would therefore be useless. On the contrary, they should be amended only if there is a suspicion of corruption. As you can imagine, the new update was drafted by safety expert. And the first of these rules is simple: use an easy sentence to remember. These rules, we all know: use a combination of numbers and letters, alternate lowercase and uppercase and incorporate accented and special signs.
However, you can make the obstacles much more difficult for cybercriminals to cross and this will have the merit of being able to protect you. Do not neglect anything and from now on follow these different steps:
Step 1: Do the Security Check-up Recommended by Google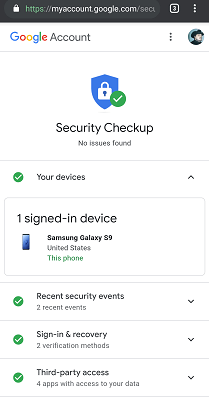 In recent years, the American giant that provides the GMail service has deployed sufficient means to help users of its email client improve their security. Google generally recommends that GMail users perform a security check.
For this, the American company has dedicated a special page to it in the settings. Here are the actions that are generally requested from the user during this check-up:
- Adding or updating recovery options: in this section, Google invites the user to determine a means that will allow him to be able to recover his account since he is facing a connection problem. It can be a phone number or another email address. Recovery measures are generally useful in situations where your account is being used by a third party without your consent. It can also be in the event that you have trouble logging in because you have lost your password;
- Activation of multi-factor authentication: this authentication method is generally popular with Google. Moreover, following a recent update, the American giant now imposes multiple-factor authentication which will consist of confirming the identity of the person who connects in two stages. The first confirmation step is of course your password. The second method is the code sent by SMS or a security key;
- Activation of Advanced Protection: This is a configuration which is normally dedicated to certain individuals because of their activities. Especially journalists and activists. When the user fulfills the Google condition, he can register there. In this way, he benefits from a much more enhanced protection program;
- The prohibition of access to your data by non-essential or unreliable applications: at this level Google calls out to you on the importance of not allowing any application to be able to access your GMail account because of personal data that it contains;
- Locking your device : it is important that when you are not using your device, whether it is a computer or a smartphone, it locks automatically after a fairly normal period of time and not very long. This prevents other people from accessing your account from your terminal without your consent.
Step 2: Run the software updates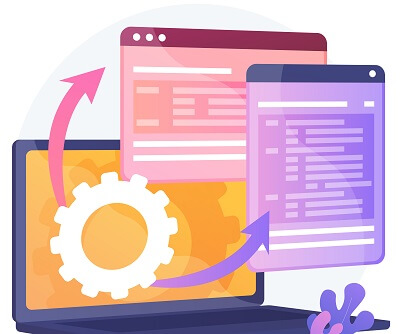 Whether it's the GMail app or a browser, you need to make sure that the software you are using to access your account has received the most recent update. This reduces the risk, because of the security patches that are constantly being deployed. Because an obsolete application is a danger for you.
Step 3: Have good password management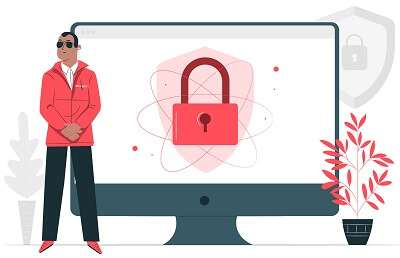 The password is the first hurdle that a hacker must cross when they want to attack your GMail account. Therefore you must make your password as valuable as an asset that you do not want to lose. So make sure you compose a password that is complex enough to prevent it from being easily guessed while making sure you don't forget it. Also, avoid using the same password on multiple sites for different accounts. It's a very easy way to expose yourself.
You can compose a password from a word and change its characters, for example, the password "ALICE" was changed to "@l1C3". Added to this was the requirement to change the GMail password every 90 days. Rules apparently struck at the corner of common sense, but which would have no efficacy. We recommend using passwords of at least twelve characters. To create a GMail password, the phonetic method is as follows: The phrase "I bought eight cd for one hundred euros this afternoon" will become "ght8CD%E7am".
If you are using a different password for each of the sites in which you are enrolled, one solution is to use a password vault. This digital locker stores all identifiers (nicknames, passwords, email addresses, etc.) in the Cloud (a remote server). To enter it, of course, you need a password, but only one, which allows you to find all the others. As soon as a site is opened, the safe recognizes it and introduces your secret code. Some offers this feature in these security solutions, but also free online (Identity Safe), as well as its competitor. And it works for different platforms.
Finally, be aware that Google offers a security check-up linked to the password. With this feature, you can check if your password has already been exposed, if it has been used on your account or if it is not sufficiently secure. You also have an alert notification when a website where you have entered your password tries to usurp your information by passing itself through Google.
For the fun, here are the most used access codes in the world, and therefore the least reliable: "123456", "qwerty", "azerty", "abc123", "password"... Not to mention the most nil of all: "0000".
Step 4: Get rid of all unnecessary browser extensions and unused apps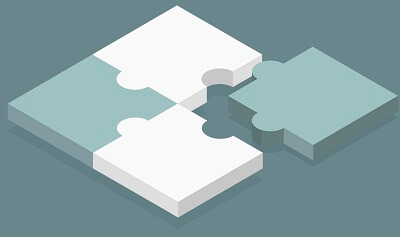 Applications and browser extensions are generally potential security holes. Therefore, when these are of no use to you, simply get rid of them. Especially those that come from sources unknown to the PlayStore
Step 5: Beware of suspicious messages or from unknown or unrecognized correspondents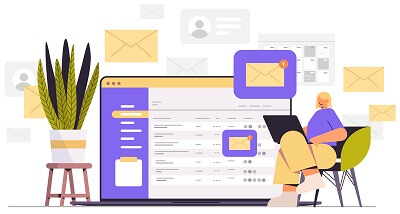 In other words, beware of phishing. This technique is used by cybercriminals in order to collect as much information as possible about you. If a message invites you to go to any platform through a link, it is important not to click on that link or any attachment you may receive from correspondence that you do not know anywhere. you don't know enough. Even when this match is known, don't click the attachment mindlessly.
As soon as you receive a message that you find suspicious with spelling errors asking for help in money, be very careful. There will be no possibility to cancel the money transfer. Beware of overly tempting messages where an unknown person contacts you in order to bequeath you a large sum of money. It's all hot air and most of the time you're the one who's going to lose the money.
Also, take the time to delete old, unused accounts. These also target inactive accounts to hack a GMail account. There might be emails in the "Sent Mail" folder that you did not write, although hackers can cover up their scams by deleting copies of sent emails.
Conclusion
If it is still active and a hacker manages to break into your GMail mailbox, it still puts you at considerable risk. You might have all kinds of personal information stored on this account, not to mention photos and the like that should be kept private.
You can also supplement your protection with a tool that will allow you to recover your account in the event of loss of control. As you know cyber criminals are competent enough today to circumvent all security measures. It is very useful to have another card up the sleeve. For this purpose, we offer PASS BREAKER. A multiplatform software, the functionality of which allows you to find the password of your GMail account only by using your email address. This will effectively give you the edge in just a few clicks. PASS BREAKER can be used on a Windows computer, Android or iOS smartphone.
PASS BREAKER can help you find your lost password if you have been the target of a hacker who wanted to hack a GMail account. Even though it hasn't been used for years. Not many people know it, but a GMail account that has not been used for years is not deleted. Far from it, it is just put on standby, what professionals call "hibernate". The messages are thus stored on a server while waiting for a next connection.