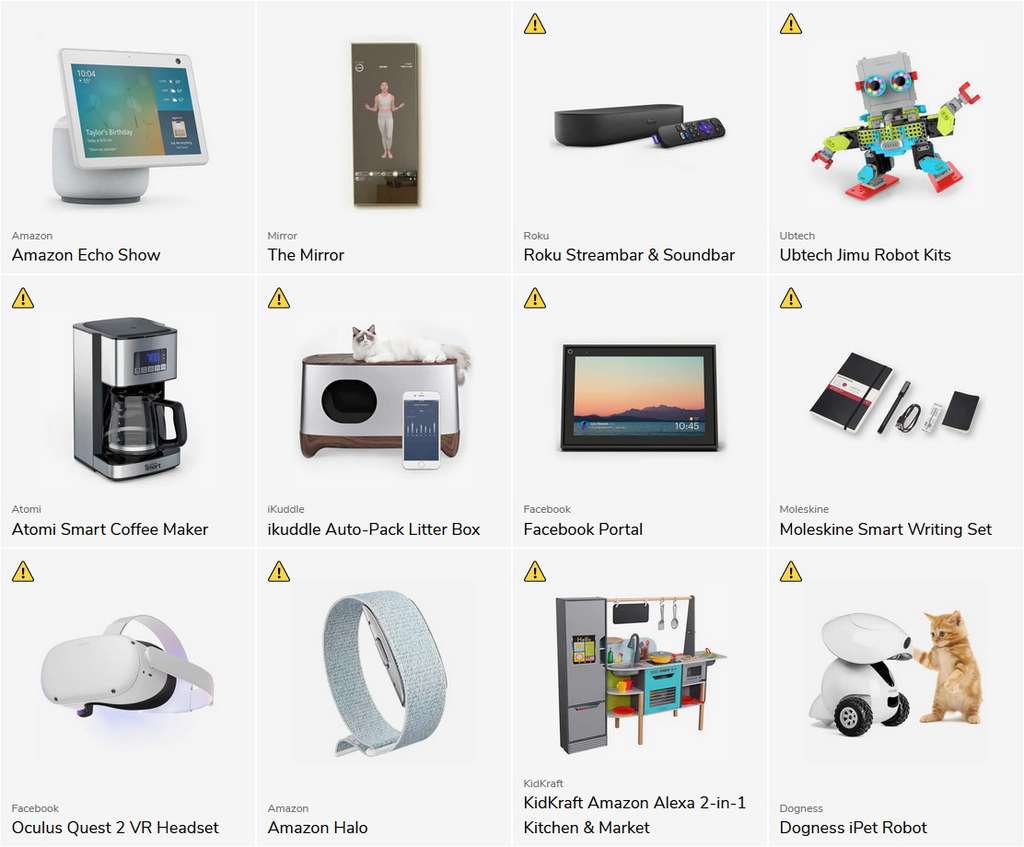 Personal data protection: Mozilla Foundation classifies devices based on their benefits for user data
For the end-of-year party, you should choose what to offer your parents and loved ones.
More often than not, the idea that runs through us touches on digital objects. However, not all devices are good to offer under certain circumstances. It is in this context that Mozilla has decided to publish a list highlighting devices that are concerned with good management of user data. A list that makes the apologies of some builders but which in another sense denigrates others.
This article will also interest you: The impact of the Internet of Things on the security of industrial control systems according to Kaspersky
This year we are at the 4th edition of the famous list entitled "Privacy Not Included" based on the interest of manufacturers in the privacy of users of their devices. The list available on the platform of Mozilla, the Foundation that is behind the famous Firefox browser. The list includes 136 products from the connected object class.
"In 2017, when we launched "Privacy Not Included," we didn't know if people would be interested in a guide to privacy and security of connected smart toys, gadgets and home products. It turned out that they were. And it wasn't just people who were interested. We found out that companies were too," says the foundation. It should be noted that from now on visitors to its platform can also participate in the ranking in their appreciation of the cost of a product it would have used
"We recognize that people just want to know which products are safe and which are not. We are Mozilla – not a consumer product valuation company – so we won't say "Buy this, don't buy this". Instead, we used our technical expertise to create a set of minimum safety standards that we believe all products should meet to be sold in stores," says the foundation's management.
In the list of the most reputable as being problematic for the personal data of users, 3 large groups are put on the spot. These include Amazon Moleskine and Facebook.
The foundation pinned several products of the American giant Amazon because it believes that it is too minimalist in terms of managing the privacy and data protection of users of these products. Some of Amazon's practices according to Mozilla could literally characterize themselves as criminal. Especially with its Halo product, the connected wristband produced by the American e-commerce giant. People who made the unqualified selection as "the scariest fitness tracker ever seen. The problem is not that all the data collected by this device is kept in an unsecured way, Amazon does a good job of securing the data. The problem is what Amazon can potentially use all this data for." According to them, Amazon's connected wristband not only measures the physical activity of its user, but also listens and using machine learning processes, it requires certain activities such as taking pictures in your underwear in order to see the evolution of fat levels. It is true that Amazon has certified not to use the information collected by Halo for commercial purposes, however, the product recommendation that users receive from the bracelet make them think otherwise. And despite this, the bracelet continues to collect biometric data from its users. "We put it in the "Just because you can"t because you have to do it" category," the authors of the selection wrote in their report.
On the Facebook side, mistrust concerns the use of its Portal. In practice, it should be raised that the social network does not have a good reputation for managing and security of the personal data of users of these platforms. Facebook "has a pretty catastrophic record in protecting the privacy of its users," and the Mozilla Foundation is concerned: "Today, they're asking people to spend a few hundred dollars to install a device with a smart camera powered by artificial intelligence and capable of tracking all their movements, as well as a permanent listening microphone powered by Alexa." According to the foundation, if so far no concrete facts can doubt Facebook, especially for the use of its connected object, it should not forget its history. "Given Facebook's terrible record on privacy, we are very concerned," the authors said. "The question is whether Facebook has your interests at heart when it collects all the data that this device is capable of collecting. In the past – from Cambridge Analytica and beyond – the answer to this question has too often been no," conclude these deniers.
Apart from the two American giants, manufacturers such as Moleskine, DJI, Xiaomi are also pointed out through their bad reputation for managing their users' data. These would have palpable deficiencies in terms of protecting user information.
But beyond this, several items from well-known manufacturers such as Apple, Nintendo or Jabra, received very good marks from the selection of Mozilla.
Now access an unlimited number of passwords: