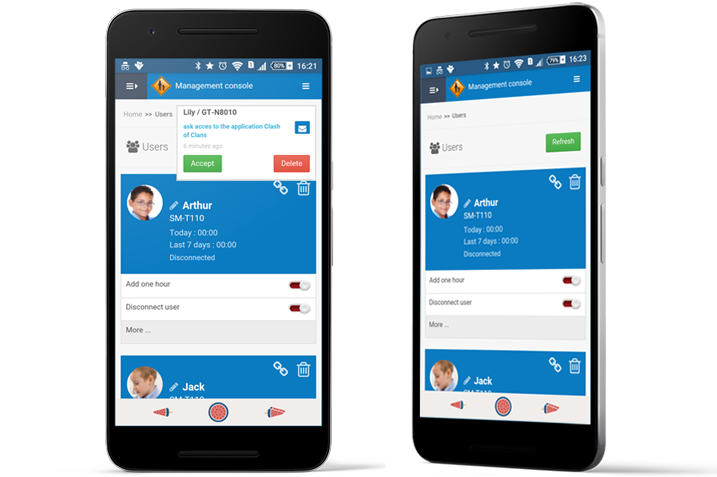 How do you get around parental controls on your devices?
Parental control or the puzzle of the youngest. Today, we'll give you some tips for bypassing this system that limits your Internet mobility on their mobile.
This article may also be of interest to you: Parental control to secure your children's connection
Tip 1: Reset your telephone.
in The phone's reset allows you to put the settings back on the initial state, i.e. before the implementation of parental controls. before start resetting, make sure you've backed up your data first Essential. You can sync them with your Google account where icloud or by cable, transfer them to your computer. Because the reset your phone will erase all your data contained in your phone The phone.
To back up on iPhone: activate iCloud, then follow the instructions that will be given to you when the backup procedure.
To back up on Android, go to "settings," then select "Personal" – "Save and Update," "Save My Data" – "Save."
please then follow the instructions to ensure a reset in The rules. After resetting your phone you'll only have to restore all your data that has already been backed up. Once this is done you will find that your phone is like new, without any constraints. since access the websites and platforms of your choice without restriction No.
Tip 2: Connect with a VPN.
the VPN or private virtual network a channel that allows Internet users to have internet access anonymously. Let's say it's one of the most easy and easiest to get around a lot of protection. To use you must first download software that allows you to configure this access. It's easy to have that kind of software. You can go through any Google browser or even Bing. You can find several software programs capable of this, however please make sure that you download this software from an official website. Or from a safe source because, all VPN software is unreliable. You may be exposed to pirate. So do you settle for official blinds directed for good brands Defined. We recommend you as VyperVPN software or Tunnelbear. Once VPN set up you will see that you have access to the Internet and your unrestricted mobile as well.
Tip 3: Use a proxy address or a website that allows access.
to go on the internet through any browser. You can start search for a site that allows proxy addresses. You'll see, proxy sites will allow you to circumvent the restrictions contained in the control parental. They will camouflage your connection by passing you no other servers, just to make you anonymous. Even if they are sometimes often blocked, it does not prevent that continuously, new proxies take the relief. Last point, note that your connection may be a little slow because writing your access to other servers affects your throughput. you will also often change your proxy because, parental control may be can affect the proxies used each time.
astuteness 4: Connect with the administrator account on your computer with Windows 8 old.
for do so, restart your PC. Go to the start menu and choose " "restart" to start the start. And do it in "safe" mode. During start-up, press and hold the f8 button. You'll then see Windows' advanced options. Opt for safe mode. one Once the action will show, then press the input button to confirm. Once on the desktop access the admin account. It will not be protected by a password. You then access the account management settings. Access the user account and disable parental controls. Once disabled, you'll have access to any sites you want.
However, if this allows you to browse anonymously, wanting to bypass parental control is totally tempting. You should avoid certain applications that will offer you these services such as TOR. The admin account method only works on Windows.
Now access an unlimited number of passwords: