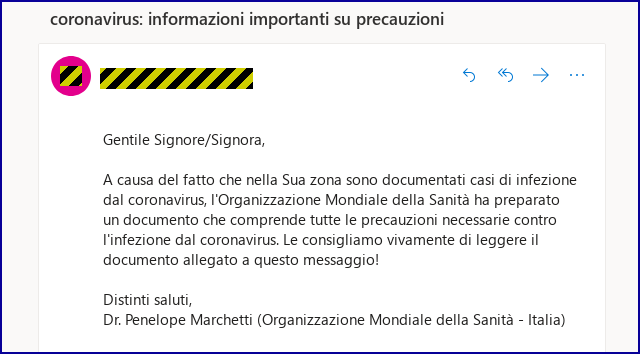 Italy: When Coronavirus Serves as Reason for Spam Attacks
SophosLabs has highlighted a hacker strategy to infect or attack you through the phishing of terminals through hacking via spam.
Spam received by targeted people contains a Trickbot malware. To encourage their victims to click on messages, hackers will use the media success around coronavirus and of course it works.
This article will also interest you: Trend Micro's approach to cybercrime in 2020
The virus is scary, and hackers are taking advantage of this great confusion. How will you say that? It's simple. They will design clickable documents that refer to messages related to viruses, information about methods to avoid disease, etc. Behind these documents will be hidden the malware that will be ready to infect the terminals of the most careless people.
"The cybercriminals behind Trickbot are probably skilled attackers who take advantage of the current fear to scare people and get them to click. Although this is the case in Italy currently, we expect a similar attack in other countries where fears of an outbreak of COVID-19 are high. The best approach to avoid this type of cyberattack is to disable macros, to be very careful before clicking, but also removing suspicious emails or from an unknown source. explained Chester Wisniewski, the SophosLabs. "Whenever there is a matter of public interest such as COVID-19 or fires in Australia, we see that cybercriminals are trying to take advantage of our concerns to make it a opportunity. We must remain vigilant and wary of communications and seek advice only from our health authorities. public public service." Continue.
So a few tips for not getting distracted, and preserves the integrity of its computer data as well as than his terminal
Don't have not used to clicking on links you receive by email in especially when you don't know the recipients specifically. In this regard about coronavirus advice, disaster photos it is preferable to go through official means because there are platforms created by public institutions in this kind of way. effects.
Make very careful about the name used by the senders of the messages you Receive. Indeed, it is common for these people to use fairly common denominations belonging to public institutions such as World Health Organization, the Exetera World Bank. To be sure exactly email address or simply avoid relying on that.
the content of the messages you receive. It often happens that are dotted with grammatical spelling mistakes.
not never share your personal data for no real reason. In other words do not give your personal information.
Avoid to use the same password on multiple websites.
activate dual-factor authentication.
Be careful and as soon as you feel something suspicious is happening on a website on which you have entered your contact information, think immediately about changing your passwords and for your identifications.
Now access an unlimited number of passwords: