How to crack an Snapchat password?
The security of the Snapchat social network leaves much to be desired...
Most Snapchat users imagine that because the messages are fleeting, the account is secure. However, this is not the case, in fact, messages that people think have been deleted do indeed remain stored on Snapchat servers.
Sad news for those who thought they had total control over their image when sending out daring photos...
Now that everyone knows that Snapchat is not as secure as you think, it also remains very vulnerable to attacks. We can no longer count the number of Snapchat accounts hacked in recent years. It's no wonder when the source code for the application is found on the Internet.
What are the solutions to crack Snapchat?
Hacking methods are exploding on the Internet, they are all equally effective. But to successfully crack a Snapchat account for sure, you need to have the right tools...
Since Snapchat realizes that their social network is not secure at all, they've implemented dual-factor authentication protection. This means that when a user wants to log into their account, they must confirm access via the SMS received on their phone. This method is not at all developed and confirms once again that this social network is full of flaws and technical flaws.
Method 1: PASS DECODER
PASS DECODER is one of the best Snapchat account hacking tools. It is also the easiest and fastest. It allows from a Snapchat ID to crack access and connect to it. In fact, this application connects to the databases containing the passwords associated with the identifiers. A simple manipulation with a script and you're done!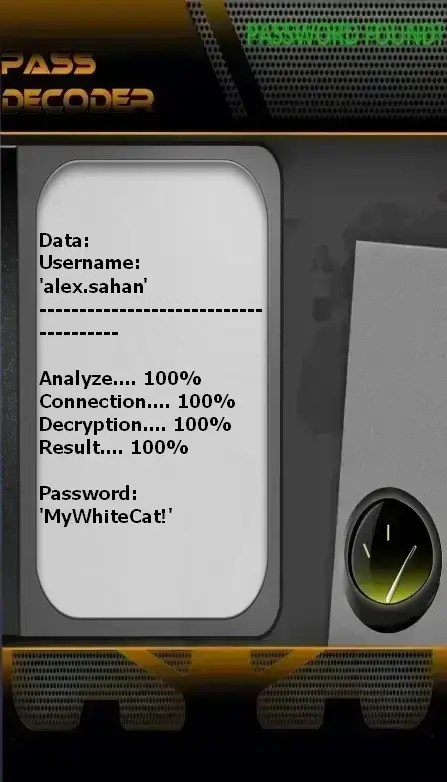 You can download PASS DECODER here.
We have to tell ourselves the truth, a password most of the time contains a birthday, the name of his dog, his mother... Hackers use a method of learning from social networks. Indeed, they will do research on the Internet using simple means of access such as LinkedIn, Facebook, Twitter... and they will collect as much information as possible on the victim. All you have to do is try different passwords to log into the Snapchat account.
Conclusion:
Snapchat is a fantastic communication tool for sending and sending messages and images for temporary purposes. Sadly, Snapchat is filled with major security holes that can harm their users.