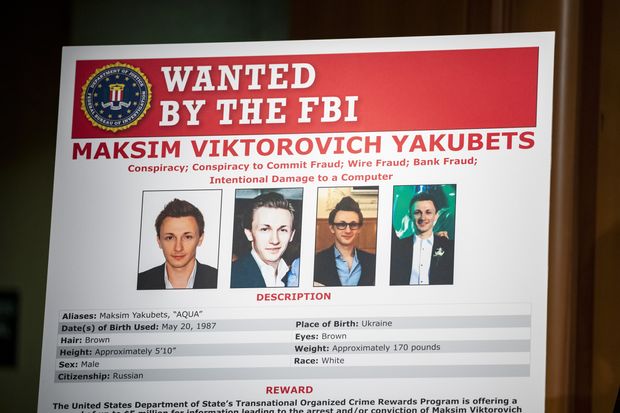 2 Russian pirates batted in American justice
They are named respectively Maxime Iakoubets and Igor Tourachev.
Since 5 December, they have been under an international arrest warrant issued by the Federal Police American.
The reason for this arrest warrant is in the field of computer security. Indeed, they are recognized as dangerous hackers who have made more than a hundred thousand computers. They managed to earn more than $100 million in their misdeeds in just a decade.
This article may also be of interest to you: An APT hacker group identified by the Russian firm Kasperky
It should also be noted that these hackers are suspected of making from a team of computer scientists Russia's spy service. Arrested, they are charged in the United States at present.
The two Russian hackers were found to be at the head of a group of cyber criminals with the name " Evil Corp." It's a group of cyber criminals having the notoriety to attack financial institutions, banks, companies and other private organisations as well as local authorities. Their favorite method of hacking is phishing, also known as "the phishing." According to the accusations of the American justice, the Russian group led by the two accused is said to have caused the spread of several malware around the world for 10 years now. Among the malware they allegedly leaked, we can including the Zeus, Bugat and Dridex programs. They are generally used by the phishing method behind email attachments. those software software had the particularity of stealing financial data (from bank account numbers, login credentials, secret codes, etc., etc. They then use it to rob their victims, empty their accounts fraudulently transferring their funds to the bank their. For example, the Zeus malware was used from 2009 in the U.S. to steal more than $24,000 from the Franciscan Sisters' Account based in Chicago. It has been analysed that the most recent attacks of this group date back to the month of May this year.
Maxime Iakoubetselle is considered by the U.S. judicial authorities to be the head of The Evil Corp's hacker group. He would then be "responsible for management and supervision of the group's malicious activities (…) and Igor Tourachev as one of the administrators (…) having control over the Dridex software" . Maxime Iakoubets "is a true criminal of the 21st century who, by pressing a button and clicking on his mouse, committed computer crime around the world," said Brian Benczkowski, the Minister of Justice during a press conference. "Each of the computer intrusion was actually a bank robbery assisted by computer. The latter apparently collaborated with the services (FSB) "from 2017 (…) on plans for the government," explained the U.S. Treasury.
In addition, the U.S. Treasury has put in place several sanctions to direct to 17 individuals and 7 organizations with an affinity with Evil Corp.
Now access an unlimited number of passwords: