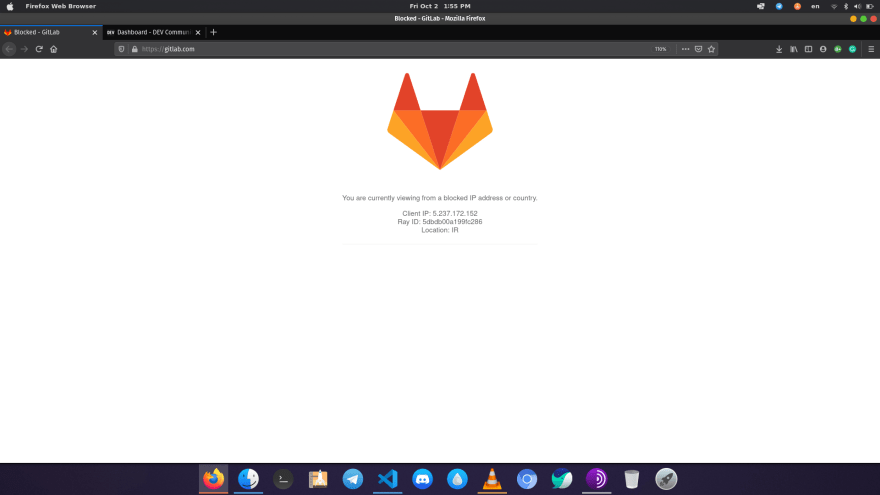 Iranian developers prevented from accessing Gitlab comfort due to US sanctions
U.S. sanctions are doing more and more damage.
The U.S. president, in a logic of sanction and arm-wrestle, takes actions likely to undermine the making of important players tics. In addition to Chinese companies that are affected by the ban on trading with Chinese companies, it is now the turn of Iranian developers not to have access to the Open Source Gitlab platform.
This article will also interest you: Following a test, 20% of Gitlab employees are having a phishing attack
One of the first people to report this problem was Ahmad Haghighi, user developer, contributor and administrator of the Gitlab instance platform. "On October 3, 2020, GitLab blocked access to Iranians (based on their IP) without any notice! and five days later (October 8), my friend's account has been blocked and he still doesn't have access to his plans! even after creating a ticket and requesting temporary access to export its projects only! GitLab refused to unlock it! My friend is not the only one who has been blocked by GitLab. With a simple web search you can find a growing list of blocked accounts. So I decided to leave GitLab and ALL free software based, hosted or managed in the United States," he notes.
This developer reaction follows that in our user GitHub, another hosting and free software management service also American. The problem has been going on since July 2019. Main me users of GameHub, for open Source Linux software. It's an app that allowed you to centralize in a library, all the games that came from Steam, Humble Bundle, GOG Humble Trove and all the games installed locally.
With GameHub, users can see all the games, download them, install them and uninstall them, do bonuses and DLCs from GoG.
"My account has been blocked because of US sanctions because I live in Crimea. I might not be able to keep GameHub in the future," reports developer in an open ticket on Gitlab.
This is the same case as that of an Iranian developer named Ahmed Saeedi Fard, similar to the GameHub case. A developer who has been registered on the platform since 2012. Managers of the platform platform informed him by email of the suspension of his account, caused by sanctions issued by the U.S. government.
The GameHub case was in the same wave as that of Ahmed Saeedi Fard , an Iranian developer who has been on the platform since 2012. He had received an email from the platform's managers notifying him of a blocking of his account due to U.S. sanctions.
In addition to this, The announcement of GitHub which specified the creation of a private framework for the management of certain open source projects that will be visible only by a set of well-defined collaborators. A free framework that prompted many developers to fall into this context while some had their private repository locked.
"GitHub had been a free platform for all for many years, but it decided to block Iranian accounts. I think being from a particular country is not a choice you make, but being a developer and contributing to the open source community is. GitHub forbids our freedom to contribute and be part of the open source ecosystem because we live in Iran.
GitHub has blocked our private deposits without any prior notification and now we do not have access to the codes. You should not judge people by their country of origin. You can restrict a government, but you should not ban your active and loyal users without any warning.
I think having a simple GitHub page is a fundamental right for users. Don't put us out of the open source community," the Iranian member said.
At the moment, these sanctions are part of a somewhat ambiguous framework. And no one knows how long it could last. Moreover this could have drawbacks on current open source projects.
Now access an unlimited number of passwords: